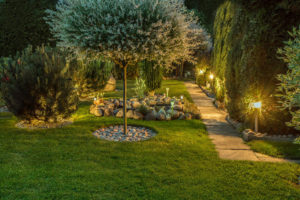 Low voltage garden lighting is probably the most overlooked area in the landscaping world. It allows the garden to come to life in the evening and dark hours. It offers security. It offers safety. It can add that finishing touch to the most beautiful landscape project.
Under water lights can illuminate your fish or a waterfall, path lights can light your way and up and down lights can highlight a tree or plant that slowly moves in the evening breeze.
Grand Landscape Design can tailor a night lighting plan to suit your needs. We use a state-of-the-art LED fixtures to ensure wise power consumption and lamp longevity.
Contact Information
Grand Landscape Design
15 Empey Street,
Brantford, ON N3S 7P9
(by appointment only)
Tel: (519) 751-1500
Fax: (519) 756-0519
Contact Us!
Snow Emergency Service
519-755-1627